Registration is now open for Canoefest 2016 (book here) so we've prepared this page on things you might like to know before booking.
We will be based at Ross Rowing Club at Ross-on-Wye. Here we have exclusive use of the field adjacent to the river, upstream of the clubhouse.  Note: this is pasture land rather than manicured lawn, and is completely open to the riverbank.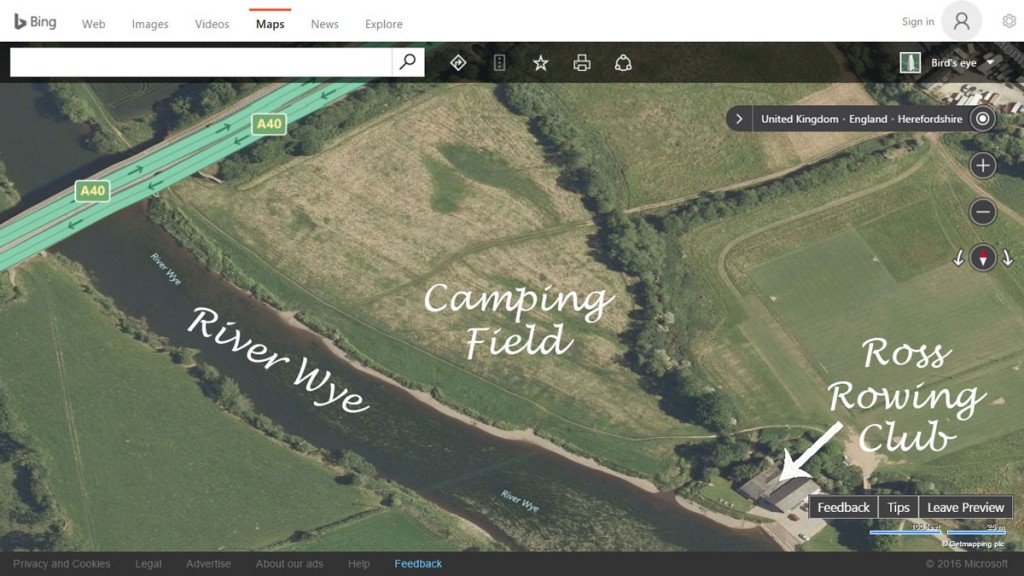 We are hiring a marquee for the weekend so will have a great meeting point. This will be the location for the AGM on Saturday evening and the Hog Roast and Ceilidh on Sunday. We will also have a beer tent. We will be running this ourselves so prices will be as low as possible – just set to cover our costs.
We hope to have local Scouts onsite providing bacon rolls, hot dogs, hot & cold drinks etc.for breakfast and lunch. Prices again will be very reasonable and any profits made will go directly to the Scout Group. We hope you'll be able to support them.
Saturday evening meal (optional) and Sunday's hog roast (included) will be provided by outside caterers. It is essential that you pre-book these. Additions on the day will not be possible.
The programme for the event (click here) will be a little different this year…
Saturday and Monday will see a packed offering of trips, coaching and bushcraft…. all of which are included in the ticket price. We also are able to offer sessions with Becky Mason and with Ray Goodwin. These are at additional cost and will need to be pre-booked on the booking form.
Sunday will be more of an onsite day. This will include a fantastic offering of demo boats from the major canoe manufacturers. Bushcraft sessions as well as throw rope and rescue sessions. You can have a go at SUP under the watchful eye of Caroline Carr and her team. We will have lots of fun games and competitions on the water including Hou Canoes 'Beercooler' challenges. These will culminate with a celebration of our 60th Anniversary with the hog roast and ceilidh in the evening.
Booking the 'Included' Trips and Sessions
Once you've registered we will email you with more details of the options available. You can then plan your weekend and return the form to us. Spaces are limited so we may ask for you to prioritise your choices. Some of the locations used may incur some parking charges. These are not included in the fees so we ask that you plan your shuttles to minimise this.
We do hope this year will be an event to be remembered for many years to come. Early booking would very much be appreciated. If you have any queries or questions please email Gary at events@opencanoe.info
Footnotes…
In anticipation of what might otherwise become a few "frequently asked questions"…
The clubhouse has

toilets and showers

. (Two male & two female) so you'll need to plan use of these and perhaps use off peak times if you can. In addition we will be hiring in a number of portaloos that will be located at various locations around the site.
There is a

cold water tap

on the field.

Dogs

are welcome. Please keep on a lead at all times.

Access to the site

is not via the main rowing club entrance but through a car park at the rear. We will provide a map at the time and it will be well marked.
Access through the car park has a

height restriction barrier

. We are working on getting this temporarily removed or at least will have it manned to allow easy access. We'll update you on this closer to the time.
The

camping area

will be immediately to the right as you enter the main field. 

Caravans and campers

will be located around the perimeter with

tents

in the centre.
For safety reasons

cars are to be left in the car park area

.
The field is bordered by the A40. This will give some noise disturbance however this diminishes at night.